Difference between revisions of "Montreal"
Jump to navigation
Jump to search
Line 100:
Line 100:
 

==Rappers==

 

==Rappers==

 
 
−

[[45 Starz]], [[A.N.O.N.]], [[AOT]], [[Akshun]], [[Baxter Dexter]], [[Black Mob]], [[BG Entertainment©]], [[Black Gloves]], [[Black Sash]], [[Bless]], [[Bilo da kid]], [[Bunzy-Mack]], [[Buzzy Bwoy]], [[Capo/Cash Rulez]], [[Double Shots]], [[DPC]], [[Jonathan Emile]], [[Jonny Hostile/Benny Madison]], [[Justice]], [[K.Maro]], [[Le Connaisseur]], [[Magnum 357]], [[Malicious]], [[Markings]], [[Northern Lights]], [[Novakane]], [[Preach Ankobia]], [[Promise]], [[Recognzie Real]], [[Rugged Intellect]], [[Sans Pression]], [[Shagga Shee]]

+

[[45 Starz]], [[A.N.O.N.]], [[AOT]], [[Akshun]], [[Baxter Dexter]], [[Black Mob]], [[Black Gloves]], [[Black Sash]], [[Bless]], [[Bilo da kid]], [[Bunzy-Mack]], [[Buzzy Bwoy]], [[Capo/Cash Rulez]], [[Double Shots]], [[DPC]], [[Jonathan Emile]], [[Jonny Hostile/Benny Madison]], [[Justice]], [[K.Maro]], [[Le Connaisseur]], [[Magnum 357]], [[Malicious]], [[Markings]], [[Northern Lights]], [[Novakane]], [[Preach Ankobia]], [[Promise]], [[Recognzie Real]], [[Rugged Intellect]], [[Sans Pression]], [[Shagga Shee]]

 
 
 

==Videos==

 

==Videos==
---
Revision as of 14:13, 16 July 2009
Montreal
Montreal aka MTL aka Real-City aka 514 aka Mount Real aka "French-City" aka M-T-sheLs aka "Gun"-treal is the second largest city in Canada and the largest city in the province of Quebec. It is located in the southwest of the province of Quebec, approximately 270 kilometres (168 miles) southwest of Quebec City, the provincial capital, and 190 kilometres (118 mi) east of Ottawa, the federal capital. The city is the largest French speaking city in the Western Hemisphere, and is the French language hub outside of France. At the 2001 Canadian Census, 1,588,590 people lived on the current territory of the city of Montreal. The population of the Montreal Census Metropolitan Area (also known as Greater Montreal Area) is estimated at 3,720,000 in 2006. Montreal is ranked as the 15th-largest metropolitan area in Northern America and 77th in the world. In 2006, both Traveler's Digest and AskMen.com ranked Montreal as the number one city in the world to live in for its culture, architecture, history and ambiance.
Area Codes
514 is the area code for the island of Montreal, and 450 for the areas outside of the island. (Laval, South Shore, etc.)
Official City Boroughs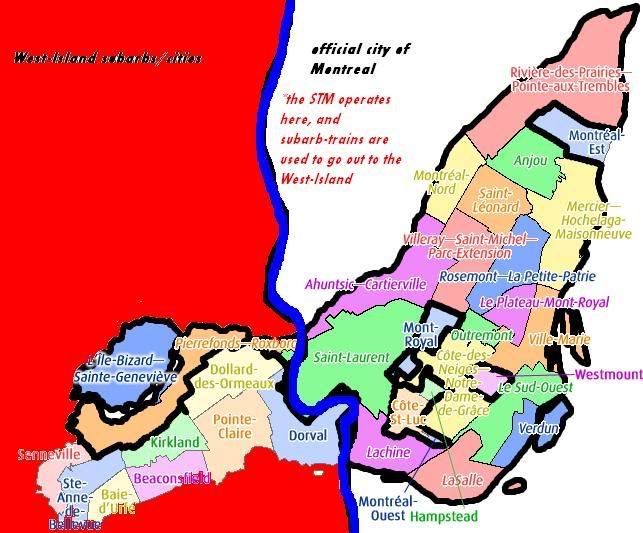 Ahuntsic-Cartierville - Anjou - Côte-des-Neiges–Notre-Dame-de-Grâce - L'Île-Bizard–Sainte-Geneviève - Lachine - LaSalle - Mercier–Hochelaga-Maisonneuve - Montréal-Nord - Outremont - Pierrefonds-Roxboro - Le Plateau-Mont-Royal - Rivière-des-Prairies–Pointe-aux-Trembles - Rosemont–La Petite-Patrie - Le Sud-Ouest - Saint-Laurent - Saint-Léonard - Verdun - Ville-Marie - Villeray–Saint-Michel–Parc-Extension
Hoods
25 Ave & Robert Boul., Ahuntsic, Amabaie, Benny Farm, Boyce-Viau aka V-Blocc, Cartierville, Côte-des-Neiges, Heights Park, Hochelaga, Jeanne Mance, Lachine, LaSalle, Little-Burgundy, Mercier Est, Mercier West, Montreal-North, Notre-Dame-de-Grace aka NDG, Park-Ex, Pascal, Pelletier Ave., Pointe-aux-Trembles, Pointe St-Charles AKA P$C, Rivière-des-Prairies aka RDP, Robert Boul. & Viau, Rosemont, Saint-Laurent, Saint Leonard, Saint-Michel, Sunnybrooke, Ville Emard, Villeray, Walkley Avenue,
Fuck The Police

Beating up drug dealers and stealing their money. Demanding cash from bar owners. Associating with convicted criminals. Visiting casinos while on duty. Extortion, obstructing justice, assault, theft, perjury, corrupt practices. These are the actions of "Montreal's Finest". It is a known fact that 'standard' police practice within poor immigrant communities would not be condoned or tolerated in affluent neighbourhoods, in which they are there to surve and protect, where as they act as an occupying army within poorer areas. The manner in which they conduct themselves when confronted by the media is a total facade and a far cry from the disrespectful and almost intimidating manner in which they address youth in marginalized areas. Youths from visible minorities in poor areas are approached with disdain and a 'guilty until proven innocent' attitude. They treat uncles, aunts and cousins of accused gang members as crminals in their politically motivated sweeps, regardless of their background (and then have nerve to ask these same people for info). There is no "wall of silence" within poor communities. The only "Wall Of Silence" that exist is the one within the Police hiarchy, which is more detrimental to bridging the gap between poor communities and police than ANY rap lyrics.

WAKE UP AND DON'T BE SHEEP!

POINT THE GUNS IN THE RIGHT DIRECTION

Montreal Pigs Brutalize Anti-Police Brutality Demo
Boo-Hoo Files: Piggies Want To Legislate Respect
Fatal Shooting By Pigs Lead to Riots
Riot Puts Pig's Race Relations Under Scrutiny
Stop Snitchin'

Even though destain for snitches can be found within EVERY ethnic community (e.i. Italian underworld code of Omertà, Triad and Biker syndicates etc.), the media and police brass constantly attempts to label this as a problem strictly confined to the black community. In the midst of all the sensationalism and misconception, the true meaning of the word "Snitch" has been misconstrue by popular culture and the media. Let it be known that a person reporting criminal activity in their neighborhood is NOT a snitch. That would be a CONCERNED CITIZEN. Someone that gives an ACCURATE account of a crime is called a WITNESS.
Snitches are the government-made parasites that drop a dime on people for a reduction in prison time, a get-out-of-jail credit, monetary payment, or a hit of crack.When necessary, these foot soldiers in the so-called "War on Drugs" embellish the truth. Quite often, they fabricate stories. Snitches are responsible for nearly 46% of wrongful convictions from false testimony, according to a study by Northwestern University Law School's Center on Wrongful Convictions. They are also the reason that innocence commissions across the country have concluded that snitch testimony is false and unreliable. Snitches are CRIMINALS hustling the system.
The media and police P.R. are creating the illusion that the crime epidemic is fueled by the black community's reluctance to cooperate with police investigations. To be quite sure, honest people are not conspiring with criminals in some imaginary code of silence. The average residant of Ontario Housing (especially visable minorities) are just as concerned as those in affluent/middle-class areas about drugs and crime in the city. But (with good reason)people in poor areas are a little closed-mouthed when it comes to talking to the police, which can probably be attributed more to the fear of dishonest police than the fear of retaliation from any gang.
Depicting the black community as a bunch of apathetic hedonists with questionable values, spooked by the thought of assisting the police in any way for fear that they would be labeled a snitch and assassinated surves the police and the media's agenda by painting the victims as the perpetrators.

In black and poor communities the police are not trusted, and for good reasons. Police lie, plant evidence, and strong-arm residents more frequently than anyone will admit.
Major Gangs
18th Street, 67's, All Bout Crips, Bandidos, Bo-Gars, Crack Down Posse, Crazy Ass Delinquents, Downtown Posse, Hell's Angels, Montreal Italian Mafia, Kazze Bizze, Pelletier Street Boys, Rough Riders, STL'z, Syndicate, The West End Gang, Uptown Posse
Rappers
45 Starz, A.N.O.N., AOT, Akshun, Baxter Dexter, Black Mob, Black Gloves, Black Sash, Bless, Bilo da kid, Bunzy-Mack, Buzzy Bwoy, Capo/Cash Rulez, Double Shots, DPC, Jonathan Emile, Jonny Hostile/Benny Madison, Justice, K.Maro, Le Connaisseur, Magnum 357, Malicious, Markings, Northern Lights, Novakane, Preach Ankobia, Promise, Recognzie Real, Rugged Intellect, Sans Pression, Shagga Shee
Videos
Montreal's Metro Transit

As the 15th largest corporation in Québec, the STM (Société des transports de Montreal) provides 364 million trips per year, or 1.3 million trips on average each day of the week, which accounts for 85% of all public transit trips in Québec. The metro lines shut down around 12:30 a.m., after which the system shifts over to night bus lines until around 5:30 a.m.
Carifiesta
Carifiesta, the local name for the Latin American ritual of carnival or masque parade dates back to the days of slavery in the Caribbean islands. For Quebec's Caribbean community, the Carifiesta Festival is an adaptation of the traditional pre-Lenten festivities which precede the Mardi gras Carnival celebrated throughout the Caribbean. Over the years, the festival has adapted to include many groups of Haitian origins, with their own music and style of dress.

The festival is characterized by shows, dances, performances featuring different types of Caribbean music-calypso, zouk, reggae, racine-as well as the vibrant music of steelbands. Colorful "bands" of brilliantly costumed performers fill the streets with joviality and dance. Carifiesta is viewed as an affirmation of the splendor and creativity of the Caribbean community: a festival which brings joy, happiness and spirituality to both participants and the masses of people lining the streets to view the parade.

Apart from the parade, there are other events leading into Carifiesta. The Junior Carifiesta, is for children between 2 and 16 years. The King and Queen Show, where masqueraders with the most elaborate and original costumes are selected to be the king and queen of Carifiesta. The Calypso Monarch, also a key figure in the festival is chosen as well.
Major Sports Teams
Montreal Canadiens
Montreal Allouettes