Winnipeg
Jump to navigation
Jump to search
Winnipeg

Winnipeg is the capital and largest city of Manitoba, Canada. Also knowned as PEG CITY or 204. It is located near the longitudinal centre of North America at the confluence of the historic Red and Assiniboine Rivers, a point now commonly known as The Forks. Winnipeg is the core cultural and economic centre of the Winnipeg Capital Region, which is home to more than half of the entire Manitoba population. It has Canada's 8th largest CMA with 694,668 inhabitants, and is Canada's 7th largest municipality with a population of 633,451 (as of the 2006 Census). The CMA population was estimated at 719,200 as of July 1, 2008. A resident of Winnipeg is known as a Winnipegger. The area code of Winnipeg is 204.
Neighborhoods
Central, Charleswood, Elmwood, Fort Richmond, North End, North Kildonan, Osborne Village, Point Douglas, St. Boniface, St. James, St. Norbert, St. Vital, Southdale, The Maples, Tyndall Park, Tuxedo, Waverly, West Broadway, West End, Weston, Westwood, West Kildonan
Fuck The Police
Police Corruption is defined as the abuse of police authority for personal or organizational gain. This comes in many shapes and sizes, from the major drug trafficking and money laundering to looking the other way on minor everyday violations of the law. Ever since the concept of rules and regulation came about there have been certain people who were chosen to enforce those regulations. Some of those law enforcement personnel have been persuaded to look the other way on certain violations committed by their friends or family. Payments for these inconsistencies could come in the way of personal favors, bribes, or gratuities. Winnipeg Police have been known to intimidate witnesses against them-- in a gang like fashion -- along with fabricating evidence in attempts to avoid legal and public prosecution.

Winnipeg Pigs Caught Lying About Arrest By Surveillance Camera
Police Brutality at Critical Mass
Pig Pleads Guilty to Corruption
Pigs Charged With Attempted Murder
Stop Snitchin'
Even though destain for snitches can be found within EVERY ethnic community (e.i. Italian underworld code of Omertà, Triad and Biker syndicates etc.), the media and police brass constantly attempts to label this as a problem strictly confined to minority communities. In the midst of all the sensationalism and misconception, the true meaning of the word "Snitch" has been misconstrue by popular culture and the media. Let it be known that a person reporting criminal activity in their neighborhood is NOT a snitch. That would be a CONCERNED CITIZEN. Someone that gives an ACCURATE account of a crime is called a WITNESS.
Snitches are the government-made parasites that drop a dime on people for a reduction in prison time, a get-out-of-jail credit, monetary payment, or a hit of crack.When necessary, these foot soldiers in the so-called "War on Drugs" embellish the truth. Quite often, they fabricate stories. Snitches are responsible for nearly 46% of wrongful convictions from false testimony, according to a study by Northwestern University Law School's Center on Wrongful Convictions. They are also the reason that innocence commissions across the country have concluded that snitch testimony is false and unreliable. Snitches are CRIMINALS hustling the system.
The media and police P.R. are creating the illusion that the crime epidemic is fueled by the Native and immigrant community's reluctance to cooperate with police investigations. To be quite sure, honest people are not conspiring with criminals in some imaginary code of silence. The average citizen is just as concerned as those in affluent/middle-class areas about drugs and crime in the city. But (with good reason)people in poor areas are a little closed-mouthed when it comes to talking to the police, which can probably be attributed more to the fear of dishonest police than the fear of retaliation from any gang.
Depicting the Native and other minority community as a bunch of apathetic hedonists with questionable values, spooked by the thought of assisting the police in any way for fear that they would be labeled a snitch and assassinated surves the police and the media's agenda by painting the victims as the perpetrators.

In poor communities the police are not trusted, and for good reasons. Police lie, plant evidence, and strong-arm residents more frequently than anyone will admit.
Organized Crime
African Mafia, B-Side, Central Gang, Hells Angels, Indian Posse, Independent Soldiers, Loyalty Honour Silence, Mad Cowz, Manitoba Warriors, Most Organized Brothers, MS-13, Native Syndicate, Outlaws MC, Redd Alert, Redlined Support Club , The Rock Machine, United Nations, Westside Outlaws, Zig Zag Crew

Also See: Gangs In Canada
Defunct Gangs
Asian Bomb Squad, Deuce Gang, Krazies, Main Street Raddlers, Natetown, Overlords, West End Boyz
Winnipeg Police

The City of Winnipeg is divided into five policing districts. Each district contains several generalized and specialized police units.
Division 11 - Downtown - City Centre - Patrols Police District 1 - 151 Princess St. - 204-986-6288
Division 12 - West St. James / Assiniboia - Patrols Police District 2 - 210 Lyle St. - 204-986-6060
Division 13 - North Lord Selkirk / West Kildonan - Patrols Police District 3 - 260 Hartford Ave - 204-986-6313
Division 14 - East Kildonan / Transcona / St. Boniface/ St.Vital Patrols Police East District 1750 Dugald Road - 204-986-6262
Division 16 - South Assiniboine Park / Fort Rouge / Fort Garry - Patrols Police District 6 - 1350 Pembina Hwy - 204-986-6042
Rappers & Rap Groups
Rappers
Bank Row, Brakada, Big D, Fresh I.E., M.I., The Lytics, Young Juve OneEighty, Kyle Money Too-Too, Young Kidd, Surly,

Rap Groups
CTL Records, HeatBag Records, Criminal Records, Black House Records, Westside Brotherhood Productions, Status Records, WestBrook Records, Mood Ruff, NateTown Records, WestBroadway Records
Winnipeg Transit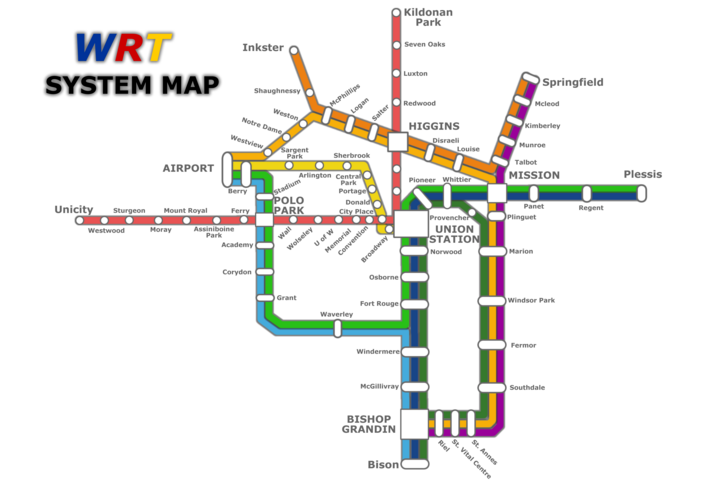 Winnipeg Transit is the public transit agency in Winnipeg, Manitoba, Canada. It is a bus-only operator. The Winnipeg Street Railway operated a horse car operation from 1882 to 1894. It was rendered obsolete and acquired by the Winnipeg Electric Street Railway (1892, later Winnipeg Electric Railway and Winnipeg Electric Co.), which ran electric streetcars until 1955, regular buses from 1918, and electric trolley buses from 1938 to 1970. After the end of street cars, the system was known as the Winnipeg Transit Commission and the Greater Winnipeg Transit Commission. The company was owned by the Metropolitan Corporation of Greater Winnipeg from 1960 until 1972 when the corporation was replaced by the amalgamated City of Winnipeg.
Major Sports Team

Winnipeg Jets

Winnipeg Blue Bombers