United Nations
Jump to navigation
Jump to search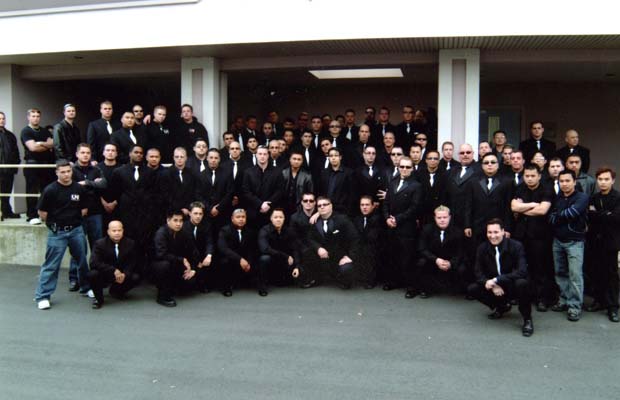 The United Nations (also known as the Global United Nations Syndicate or G.U.N.S) is a criminal organization based in the Greater Vancouver area in British Columbia formed in the 1990s. The name alludes to the various ethnic origins of its members. It is believed the decision to have a multi-ethnic criminal organization was in direct defiance to the racist membership practices held by the Hells Angels (who are considered enemies), not allowing any minorities to join their ranks. Police have estimated the U.N gang has up to 100-150 core members in the Lower Mainland area of B.C. The alleged leader of the United Nations is Clayton Roueche, who shares the leadership role with Jing Bon Chan. It is rumored that the gang has a hierarchy similar to that of the Italian Mafia, yet takes inspiration from Chinese Triad gangs in their initiation techniques. Once potential members have proven themselves adequately, they are "made" during a ceremony in which they swear to uphold the laws of the gang. Some examples are: No hard drugs. No police informing. No committing a sexual act with a sworn brother's spouse. No stealing from or ripping off sworn brothers. All these examples are believed to be punishable by death. In the early days of the U.N gang, they were linked to Asian organized crime. But today, the gang has links to outlaw motorcycle gangs, Indo-Canadian and independent organized crime groups as well. The United Nations gang are known for their use of violence, threatening and intimidation and lack of fear of law enforcement. Police sources say the gang has established a choke hold on the drug trade in the Downtown Eastside of Vancouver. Their main rivals are the Independent Soldiers and Red Scorpions criminal organizations, but they are sworn enemies of the Hells Angels as well (although some U.N. members have working relationships with full patch H.A.s). Today, police believe the U.N is a structured organization that imports and distributes B.C bud and cocaine accumulating millions of dollars through Canada, the United States and Mexico. Police also believe they dabble in weapons trafficking, marijuana grow-ops, cross-border trafficking, extortion, kidnappings and the dealing of heroin and crystal meth. Authorities believe that the U.N gang is now actively applying their trade in other Canadian cities such as Winnipeg and Edmonton with underworld connections expanding into U.S. cities such as Seattle, Washington and northern California.
News
Gang Wiretaps: U.N. Boss & Convicted Murderer Had Prison Contact
UN Gang Leader Arrested in U.S.
Massive Gun Bust Linked to UN Gang
U.S. Police Keeps Eye on UN Gang
Reformed United Nations Gangster Recalls Vice & Virtues of Lifestyle
Comments
I dunno if these guys are actually in winnipeg but last weekend i was at the bar with some homies in (winnipeg) this ladie comes up to us asks for a smoke lol. then her Friends/homies came and sat with us started talkin sayyin they were orginally from B.C but they moved to winnipeg and they were talkin alil about United nations i dunno tho...
i was told they were in the maples, downtown, osborn & St. James