Toronto
Jump to navigation
Jump to search
Toronto

Toronto (aka T.O, aka T-Dot, aka The Dot), is the most populous city in Canada and the provincial capital of Ontario. It is located on the northwestern shore of Lake Ontario. With over 2.5 million residents, it is the fifth most populous municipality in North America. Toronto is at the heart of the Greater Toronto Area (GTA), and is part of a densely populated region in Southern Ontario known as the Golden Horseshoe, which is home to 8.1 million residents and has approximately 25% of Canada's population. Toronto is one of the world's most diverse cities by percentage of non-native-born residents, as about 49% of the population were born outside of Canada. However, crime statistics show that Toronto is ranked the 57th most dangerous city in Canada.
Area codes
416 and 647 are the area codes for Toronto and 905 and "'289'" are the area codes for the suburbs of Toronto.
Boroughs
Etobicoke, York, North York, Old Toronto, East York, and Scarborough.
Hoods
400, 4 Corners: (Allenbury, Brahms, Sparroways and Villaways), Ardwick Blvd., Atkinson Housing Co-op (aka the P.O.), Bay Mills (aka Tha Millz), Bishop Tutu Blvd., Blake Street, Bleecker, Calidonia (aka Village), Cataraqui (aka Block 13), Chalkfarm Drive, Chester Le, Cougar Ct., Crescent Town, Danzig aka D-Block, Dawes Road, Dean Park, Dixington Crescent, Dixon Road, Dolly Varden, Driftwood, Duncanwoods, Dundas-Gooch (aka G-Spot), Eglinton Ave. West, Esplanade, Falstaff Avenue (aka Brown Bricks), Flemingdon Park (aka Flemo Park), Galloway (aka G-Way), Gilder, Glamorgan aka (Section 6), Glendower Circuit (aka Dower), Gordonridge (aka G-Ridge), Grassways, Greenbrae Ct., Jamestown Crescent (aka Doomstown), Jane and Finch, Jane and Sheppard, Lawrence Heights (aka Jungle), Malvern (aka Vern), Markham and Eglinton (aka MNE), Martha Eaton Way, Mornelle Court, Moss Park, Mount Dennis, Mount Olive Drive, Neptune Drive, Oakwood and Vaughan, Orpington Crescent, Orton Park (aka O.P.), Parkdale, Parkway Forest Drive (aka Forest), Parma Court, Pelham Park Gardens, The Pentagon (4010 Lawrence Ave.), Regent Park, Roywoods, San Pietro Way, Scarlettwood Court, Shoreham, Silver Springs, Stovetop, Swansea Mews, Tandridge Crescent, Teesdale, Thorncliffe Park, Trethewey Drive, Tuxedo Court, Weston Road, White Blocks, Willowridge, Willowtree, Woolner Apartments, Yellowstone,
F*ck The Police
Beating up drug dealers and stealing their money. Demanding cash from bar owners. Associating with convicted criminals. Visiting casinos while on duty. Extortion, obstructing justice, assault, theft, perjury, corrupt practices. These are the actions of "Toronto's Finest". It is a known fact that 'standard' police practice within poor communities would not be condoned or tolerated in affluent neighbourhoods, in which they are there to surve and protect, where as they act as an occupying army within poorer areas. The manner in which they conduct themselves when confronted by the media is a total facade and a far cry from the disrespectful and almost intimidating manner in which they address youth in marginalized areas. Youths from visible minorities in poor areas are approached with disdain and a 'guilty until proven innocent' attitude. They treat uncles, aunts and cousins of accused gang members as crminals in their politically motivated sweeps, regardless of their background (and then have nerve to ask these same people for info). There is no "wall of silence" within poor communities. The only "Wall Of Silence" that exist is the one within the Police hiarchy, which is more detrimental to bridging the gap between poor communities and police than ANY rap lyrics.
They traded in their Pointed hats and white gowns for badges and blue suits

COPS EXPLOIT TORONTO TRAGEDY NEW!!!!
SIU Charges Pig in Fatal Shooting
SIU is A Joke. Agency Pro Pigs & Rarely Prosecutes NEW! Oct.28, 2010
Gun Charges Dropped Because of Lying Pigs NEW! Oct. 27, 2010
Drug Evidence Tossed After Pigs Lied NEW! Oct. 13, 2010
Court Slams Peel Pigs Condemned for 2003 Beating of Robbery Suspect NEW! July 1, 2010
Dumb Ass Pig Found Guilty of Stealing Fake Coke NEW! June 23, 2010
Cop Broke Mans Arm While in Custody, Courts Rule NEW! June 22, 2010
Attack on Officer Was Self-Defence, Judge Rules NEW!
Man Charged Because of His Race: A Judge Finds
Son of Former Top Piglit Convicted of Insubordination
Payment to Shooting Victim Could Get Gangsters Early Parole
Police Condemned For Profiling of Letter Carrier
Crooked C.O.s Recieve Jailtime For Assault on Prisoner
Racial Profiling in jane and Finch
Stupid Ass Piglit Gets Busted With Marked Heroin Used in Sting By RCMP
POLICE CASE CRUMBLING IN MS-13 GANG SWEEP BECAUSE OF FLIMSY EVIDENCE
DRUG SQUAD PIGS HAS CORRUPTION CASE STAYED BECAUSE OF BLUE WALL OF SILENCE
PIGS `Physically Abused' Suspects in Raid, Judge Rules
2 PIGS AMONG THOSE ACCUSED IN GROW-OP BUST
PROJECT FLICKER NOTHING MORE THAN PUBLIC RELATION EXERCISE: LAWYER. MORE THAN HALF CHARGED RESULTED IN ACQUITALS & CHARGES BEING DROPPED
Pig Gets Jail Sentence For Sucker Punch/Fabricating Story
Stop Snitchin'

Even though destain for snitches can be found within EVERY ethnic community (e.i. Italian underworld code of Omertà, Triad and Biker syndicates etc.), the media and police brass constantly attempts to label this as a problem strictly confined to the black community. In the midst of all the sensationalism and misconception, the true meaning of the word "Snitch" has been misconstrue by popular culture and the media. Let it be known that a person reporting criminal activity in their neighborhood is NOT a snitch. That would be a CONCERNED CITIZEN. Someone that gives an ACCURATE account of a crime is called a WITNESS.
Snitches are the government-made parasites that drop a dime on people for a reduction in prison time, a get-out-of-jail credit, monetary payment, or a hit of crack.When necessary, these foot soldiers in the so-called "War on Drugs" embellish the truth. Quite often, they fabricate stories. Snitches are responsible for nearly 46% of wrongful convictions from false testimony, according to a study by Northwestern University Law School's Center on Wrongful Convictions. They are also the reason that innocence commissions across the country have concluded that snitch testimony is false and unreliable. Snitches are CRIMINALS hustling the system.
The media and police P.R. are creating the illusion that the crime epidemic is fueled by the black community's reluctance to cooperate with police investigations. To be quite sure, honest people are not conspiring with criminals in some imaginary code of silence. The average residant of Ontario Housing (especially visable minorities) are just as concerned as those in affluent/middle-class areas about drugs and crime in the city. But (with good reason)people in poor areas are a little closed-mouthed when it comes to talking to the police, which can probably be attributed more to the fear of dishonest police than the fear of retaliation from any gang.
Depicting the black community as a bunch of apathetic hedonists with questionable values, spooked by the thought of assisting the police in any way for fear that they would be labeled a snitch and assassinated surves the police and the media's agenda by painting the victims as the perpetrators.

In black and poor communities the police are not trusted, and for good reasons. Police lie, plant evidence, and strong-arm residents more frequently than anyone will admit.
Organized Crime / Gangs

ABG (aka the Allenbury Goon Crips), All Crips Gang (aka the Scarlett Blocc Crips), Ardwick Blood Crew, Asian Assassinz, Big Circle Boys, Bishop Money Gang, Chalkfarm Bloods, Chester Le Crew, Chinpac, Complex Gooch Crips, Dixon City Bloods, Driftwood Crips, Eglinton West Crips, Esplanade Crew, Falstaff Crips, Five Point Generalz (aka 5PGz), Galloway Boys (aka G-Way), Glendower Crips, G-Siders, Halal Gang, Hells Angels MC, Humberline Rexdale Crips, Jamestown Crew (aka Doomstown Rexdale Crips), Jungle City Goonz, L.A. Boys, Latin Crips, Latin Kings, Lil' Rascalz, Luen Kung Lok, Malvern Crew, Markham Boyz, Menace Gang, MNE Crew, Mount Olive Crips, MS-13, Ndrangheta, New Born Assassins, O-Blocc Rexdale Crips, Orton Park Bloods, Outlaws MC, Parma Court Posse, Pelham Park Bloods, Project Originals (P.O. Boys), Queens Drive Crips, Shoreham Crips, the Shower Posse, Sick Thugz, Silver Boys, South Side Connection Bloods, Stick-Up Kids, Stovetop Rexdale Crips, Tandridge Rexdale Crips, The Gatorz, The Lanes Crew, Trethewey Gangster Crips, Tuxedo Boys, Up-Top Crips, Vagabonds MC, Versace Crew, VR Troopers, Weston Crew, Y-Block Bloods, Yat Lo Fat, Young Buck Killers

Also see: Gangs In Canada
Defunct Gangs
10th Street Boys, 18 Buddha, 400 Crew, AK Kannan, Apocolypse Crew, Asociacion Ñeta, Bay Mills Crips, Blake Street Massive, Block 13, Boys In Blue, Christie Boys, Crook Woods,Dawes Road Crips, Dirty Tricks Gang (1 & 2), Dovercourt Boys, Emmett Boys, Fred Hamilton Boys, Fuller Park Boys, Front Page Gangsters, Get Mad Crew, Ghetto Boys, Ghost Town Crips, Gilder Boys, Guilty Crime Posse, Indian Gators Association, Iranian Power, Jane Finch Killaz, Jungle Posse, Junior Gatorz, La Cruz, La Familia, Lakeshore Crips, Latin Browns, Latin Locos, Looney Toons, McCormick Boys, Mornelle Court Crew, No Love Vice Lords, North Side Young Gunz, Parkdale Crew, Pentagon Crew, Pocos Pero Locos, Point Blank Souljahs, Regent Park Crew, Rucus Girls, Ruthless Russians, Spadina Girls, Swansea Mews, Tiny Toons, Trife Kids, True Portuguese Bloods, The Untouchables, Young Blood Generation (aka YBG), Village Crew,VVT, Young Thugz
Toronto Police Division
Rappers
4th Pyramid, 20 B-Lo, A-Game, Alias Don Million, Angerville, Annonymous Twist, Arabesque, Big Lean, Black-I (R.I.P), Blackline, Blacus Ninjah, Blits (R.I.P), Bomb Shelta Association, Brass Tacks, Brassmunk, C4, Camoflauge, Califate, Cali Snipes, Charisma, Cause The Product, Choclair, Chuggo, Citizen Kane, C. Leon, Collizhun, Colossus, Concrete Mob, Corey Fila, Crooks Of Da Round Table, Cryptonite, Dirty Diggz, D.O., D-Sisive, Dan-e-o, DeadEyez, Divo, Dizzy Dot, Do Dirty, Dope Poet Society, Down 2 Erf, Drake, Dream Warriors, Empire, Essex Court, Eternia, Exodus, Eyez, Famous, Fito Blanko, Fin-S, Flip Watson, Frankenstein, Frankie Payne, Fred E. Fame, Friday, Furee, G.C.P, General, Ghetto Concept, Goldspade, Graphidi Logik, Graph Nobel, Grimace Love, Gullitine, Heartless G, Honey Cocaine, Hustlemann, Infinite, Irs, Jaki-Li, J.B, JDiggz, Jelleestone, Jhevon Paris, JJ Money, J-Noble, J-Staxxx, Juice aka Rochester, Kardinal Offishall, Ken Masters, King Reign, K'naan, K-OS, Koncept, Logical Ethix, LP Da Original, Lucky Luchiano, Luu Breeze, Madlocks, Maestro, Marvel, Mathematik, Mayhem Morearty, Michie Mee, Mista Bourne, Monolith, Motion, Mr. Roam, Nabob, Navy Sealz, Nefarius, NEM-S-SIS, N.I.F.T.Y, Nish Rawks, Oddities, Page, Peep Sho, Phili Blunt, Pocket Dwellers, Point Blank, Poor Man Militia, P.Reign, Raw Luck Movement, Redlife, Reema Major, Richie Sosa, Richie Payso, Rich Kidd, Rich London, Ro-Ro Dolla, Saukrates, Seazon, Skitz, Slakah The Beat Child, Sling Dadz, S.L.U.G., Snow, Solitair, Strezz-One, Suni Clay, Tara Chase, Tef and Don, T-Gramz, Tha Smugglaz, Tha Squad, The Airplane Boys, Theo 3, Toba Chung (R.I.P.), Tona, Tory Lanez, Thrust, TnT, Tru-Paz, UBAD, Unknown Mizery, Wio-K, Young Tony
R & B Singers
Aion Clarke, Andreena Mill, Ayah, Carl Henry, Daryl Riley, Deborah Cox, Devine Brown, Di'Ja, Dru, Fefe Dobson, George, Glenn Lewis, Jarvis Church, Jenna, Jully Black, Karl Wolf, Keshia Chanté, Kim Davis, Kreesha Turner, Melanie Durrant, Melanie Fiona, Ray Robinson, S.Davis, Tamia, Tanika Charles, The Weeknd, Trish
TTC

The Toronto Transit Commission (TTC) is a public transport authority that operates buses, streetcars, subways, and rapid transit lines in Toronto, Ontario, Canada. The TTC operates the third most heavily-used urban mass transit system in North America (after New York City's New York City Transit Authority and the Mexico City Metro). The average daily ridership exceeds 2.3 million passengers: 1,197,500 through bus, 246,100 by streetcar, 45,000 by intermediate rail (RT), and 855,300 by subway.
Caribana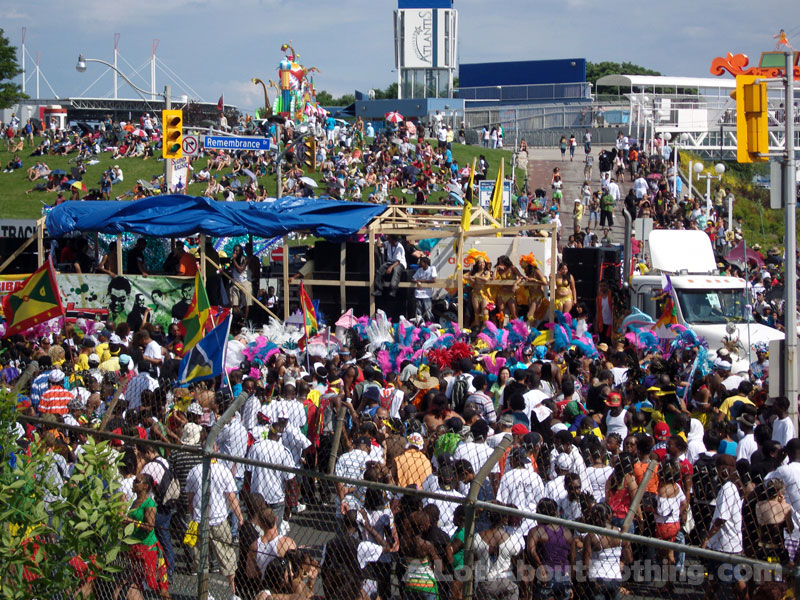 Every summer, Toronto blazes with the excitement of calypso, steel pan and elaborate masquerade costumes during the annual Caribana Festival.
Caribana, celebrating its 38th anniversary in 2005, is the largest Caribbean festival in North America. Presented by the Caribbean Cultural Committee, the two-week Festival attracts over a million participants annually, including hundreds of thousands of American tourists (NBA star Shaq comes every year).
Among the highlights is the Caribana Parade, one of the largest in North America. Thousands of brilliantly costumed masqueraders and dozens of trucks carrying live soca, calypso, steel pan, reggae and salsa artists jam the 1.5 km parade route all day, to the delight of hundreds of thousands of onlookers.
Other keynote events include the King and Queen of the Bands Competition, dodging bullets, and the two-day Olympic Island Caribbean Arts Festival. Outdoor concerts of Caribbean music, calypso harbour cruise parties and glamourous dances round out the entertainment roster.
Caribana was created in 1967 as a community heritage project for Canada's Centennial year. Based on Trinidad Carnival, the Festival now also includes the music, dance, food, guns, and costumes of Jamaica, Guyana, the Bahamas, Brazil and other cultures represented in Toronto - the world's most culturally diverse city.

For more Caribana info, check out Caribana.com or Caribana.ca (official site).
-I used to think it was way too cold, 'til I went to Canada and saw some beautiful hoes / now I hit the Caribana every year in Toronto -- Ludacris- (Pimpin' All Over The World)
Major sports teams
The Toronto Argonauts (CFL), the Toronto Blue Jays (first MLB team from outside the United States to win the World Series), the Toronto Maple Leafs (NHL), the Toronto Raptors (currently the only NBA team based outside the United States) and the Toronto Rock (NLL).

TORONTO MAPLE LEAFS (HOCKEY)
TORONTO BLUE JAYS (BASEBALL)
TORONTO RAPTORS (BASKETBALL)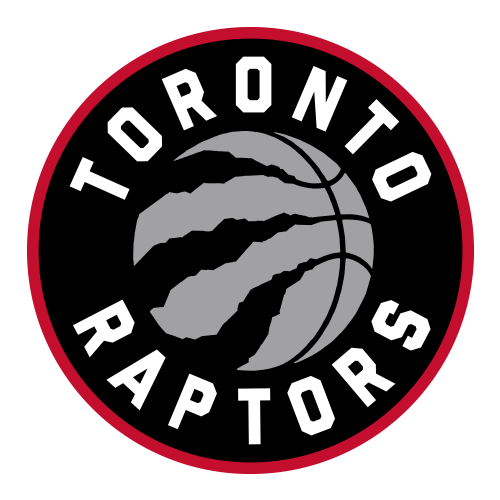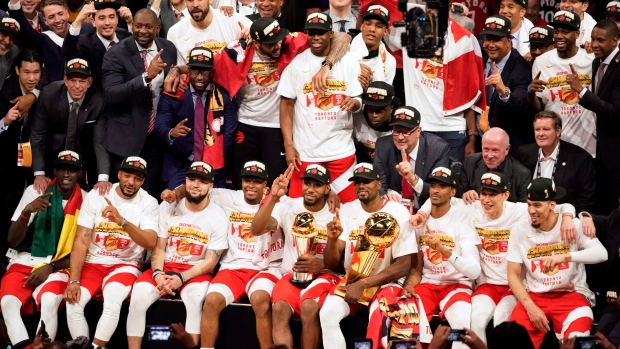 2019 NBA Champions

TORONTO ARGOS (CANADIAN FOOTBALL)

TORONTO FC and TORONTO LYNX (SOCCER)

TORONTO ROCK (LACROSSE)
Landmarks
The Air Canada Centre (home of the Toronto Maple Leafs, the Toronto Raptors, and the Toronto Rock. It was originally built to replace the legendary Maple Leaf Gardens), the CN Tower (world's tallest free-standing structure and most famous landmark in Toronto), the Eaton Centre (one of the largest shopping malls in the world, and one of Toronto's most popular tourist attractions, with about 25% of the Eaton Centre's visitors being tourists), the Skydome (world's first sporting arena to feature a fully retractable roof. It is currently home to the Toronto Blue Jays and the Toronto Argonauts and is now known as the Rogers Centre. It sits directly beside the CN Tower near the shores of Lake Ontario, and has the world's largest Jumbotron scoreboard).
External links