N.W.A.
Jump to navigation
Jump to search
NWA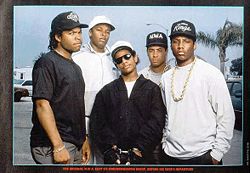 Niggaz With Attitude (NWA) were a hip hop group that popularized gangsta rap with the groundbreaking Straight Outta Compton (1989) album, a vicious hardcore record that became an underground hit notorious for its hardcore lyrics, especially those of "Fuck tha Police," which resulted in the FBI sending a warning letter to Ruthless Records and its parent company Priority Records, suggesting that the group should watch its step. The FBI's letter only served to draw more publicity to the group.
On both the 1990 EP 100 Miles and Runnin' and the 1991 album Efil4zaggin ("Niggaz 4 Life" spelled backward), Dr. Dre created dense, funky sonic landscapes (which presaged his innovative G-funk sound), together with Eazy E's humorous lyrics and Ice Cube's socially-charged raps, kept NWA at the top of the hip hop charts.
The main five members of the group were:
Early on, these two were also members:

Since the band split, Dr. Dre has enjoyed a success as both a rapper and record producer for the likes of Snoop Doggy Dogg and Eminem. Ice Cube has been successful as both a rapper and film actor. Eazy E died in 1995 from an AIDS related illness. DJ Yella now produces porn films.
External links

(From Wikipedia)