Mount Olive Crips
Jump to navigation
Jump to search
The Mount Olive Crips are an African Canadian territorial street gang named after a housing complex on Mount Olive Drive in the northwest boundaries of Rexdale in Toronto, Ontario, Canada. Although the Mount Olive Crew has been in existence since the late 1980's, members did not initially claim the Rexdale Crips "card" until the mid 1990's. The Mount Olive Crew were once allies of the Jamestown Crew, but a shooting of a prominent Mount Olive gang member tore a rift between the two groups which resulted in many casualties on both sides respectively [1]. The Mount Olive Crips were involved in many violent confrontations with other street gangs as well, but their decade long war with the Doomstown Rexdale Crips is believed to be the catalyst for much of the Crip-on-Crip violence experienced in Rexdale and surrounding areas which continues to this day. Other rivals of the Mount Olive Crips include the Five Point Generalz, Stovetop Rexdale Crips, Tandridge Rexdale Crips and the O-Blocc Rexdale Crips. Although once considered bitter rivals, attempts had been made to align the Mount Olive Crips and the Up-Top Driftwood Crips because of their shared hatred for the Doomstown Rexdale Crips, but members of the Mount Olive Crips remain friendly towards the Young Buck Killers from Up-Top Jane and Finch. Mount Olive Crip members range in age from early teens to late 30's and are generally made up of those who grew up in that particular area of Rexdale. Members have branched off from their home-turf of Rexdale, Ontario and can be found in other majour Canadian cities such as Ottawa and Calgary, Alberta. Authorities maintain that members of the Mount Olive Crew are usually heavily involved in the distribution of narcotics throughout the city and some members are known to be involved in the arms-trade. On Thursday June 04, 2015, more than 700 police officers participated in the series of raids, part of a multi-year investigation dubbed "Project Pharaoh" [2] which targeted a faction of the Mount Olive Crew known as "The Monstarz" who police alleged were involved in a series of deadly gunplay including 8 homicides.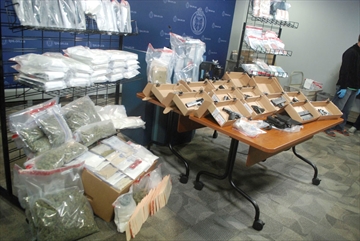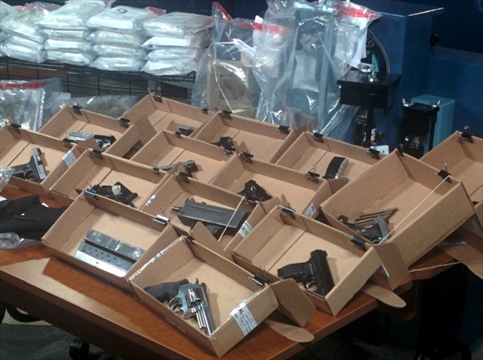 Guns, Drugs and proceeds confiscated by the police during "Project Pharoah".
R.I.P Richard (Screech) Baker
R.I.P Amar Joseph (Green Eye) Young
News
35 Arrested in "Project Pharoah" Raids UPDATE: Hamilton Cop Among Those Arrested in GTA Raid.
Shootings Are up, But Deaths are Down in 2012
Mount Olive Crip Busted On Gun Charges In Calgary, Alberta
Mount Olive Crip Receives 6 Years For Carrying Weapon
Former Mount Olive Crips/Hells Angel Member Shot Dead
Videos
Comments
Rexdale doesn't need violence
FUCK OLIVE DTC ALL DAYYYYYYYYYY !!! DOOMZTOWN