Mongols MC
Jump to navigation
Jump to search

The Mongols Motorcycle Club, sometimes called the "Mongol Nation" or "Mongol Brotherhood", is a "1%er" outlaw Motorcycle Club and alleged organized crime syndicate. It is believed this gang's name was inspired by the enormous Mongol empire of Genghis Khan. The club is headquartered in southern California and was originally formed in Montebello, California, in 1969. Law enforcement officials estimate there are approximately 500 to 600 full-patched members. The Mongols MC's main presence is in southern California, with chapters in 14 states, as well as international chapters in 13 countries.
During the 1970's and 1980's there was a Mongols MC based out of Michigan with other chapters in Ohio, Pennsylvania, and Delaware. The Mongols MC based out of Michigan were not affiliated with the Mongols MC from southern California. Chapters of the Michigan based Mongols MC have since been dissolved or absorbed into larger Motorcycle Clubs like the Outlaws MC. A German chapter of Mongols MC was founded in Bremen by members of the local crime syndicate run by Lebanese immigrants in 2010. It was the first time that a Muslim clan-based crime syndicate in Germany became active in the field of outlaw Motorcycle Clubs. Organized crime in Bremen is dominated by the Miri-Clan, a large family of Lebanese origin with an estimated 2,600 members, who first migrated to Germany beginning in the late 1980s, and rose to national notoriety with a number of large-scale criminal activities in 2010.
'The Mongols members have had long-running confrontations with law enforcement in such areas as drug dealing (especially methamphetamine), money laundering, robbery, extortion, firearms violations, murder, and assault, among other crimes. In 1998, ATF agent William Queen infiltrated the club, eventually becoming a full-patch member and rising to the rank of treasurer using the undercover alias of "Billy St. John". In April 2000, based on evidence gathered during Queen's 28-month undercover time with the club, 54 Mongols were arrested. All but one of the accused were later convicted of various crimes including drug trafficking, motorcycle theft, and conspiracy to commit murder.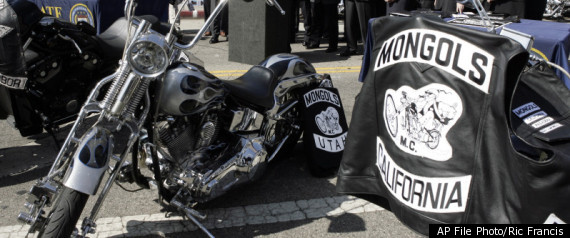 Their main rivals in the United States would include the Hells Angels as well as the Mexican Mafia. The Mongols have been linked to other Biker gangs such as the Bandidos, Outlaws MC and Sons of Silence MC,
News
Motorcycle Club Mistaken For Mongols
Chased by Mean Bikers, Former Agent Sheds His Cover to Chase Fame and Fortune
Mongol Convicted Of Mission Murder Of Hells Angels Leader
A Biker Shot Dead Is Laid to Rest, And a Bloody Turf War Rages On
Comments