Jane and Finch
Jump to navigation
Jump to search
Jane and Finch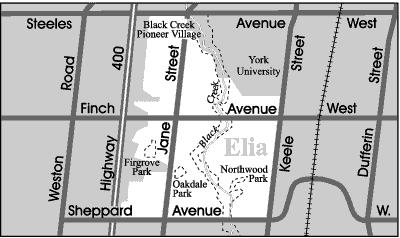 Jane and Finch is a neighbourhood in Toronto, Ontario, Canada, centred around the intersection of two major roads, Jane Street and Finch Ave. West. It is home to 75,000 people from over 100 countries around the world. The area is roughly bounded by Highway 400 to the west, Keele Street to the east, Sheppard Avenue West to the south, and Shoreham Drive or Steeles Avenue West to the north. Jane-Finch was originally developed as a model suburb in the 1960s in response to the rapid urban growth of Toronto. The community was planned to accommodate a socially diverse population and included a substantial amount of public housing, but insufficient thought was given to the social infrastructure needed to sustain community life. The abundance of high-rise apartment towers and rental townhouses in this area make it one of Toronto's most densely populated neighbourhoods.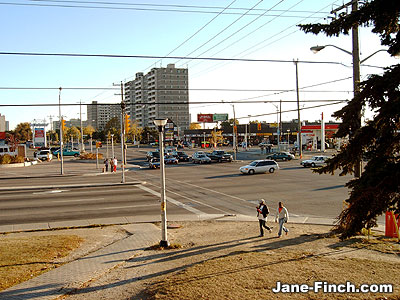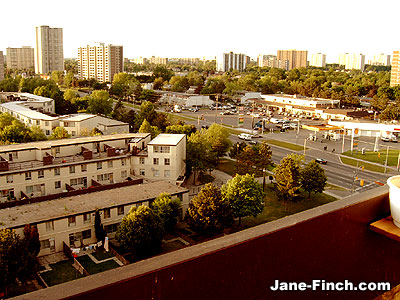 The 1960s development plans spearheaded by the Ontario Housing Corporation (OHC) coincided with North York Planning Department's goal of creating a more urban-looking suburb. Known for its series of high-rise buildings and, concomitantly, its above average population density, Jane-Finch experienced astronomical growth from 1961 to 1971 when the population went from 1,300 to 33,000, thereby accounting for more than 40% of the growth in North York. In general, urban planners, local politicians, residents of Jane-Finch, and others today are of the opinion that the OHC and North York erred seriously, contributing to rapid population growth in the area without anticipating its negative consequences. In 1973, a group of dedicated residents, politicians and community workers started identifying ways to address community problems. Jane and Finch has a high percentage of teen mothers, working poor and single-parent families compared to other neighbourhoods in the GTA. Half of the families living within Jane and Finch earn less than $40,376 a year, compared to 11 per cent of families across the city. The OHC and community social workers concentrated their efforts on improving their neighbourhood's negative image and creating a sense of community pride. Since then the neighbourhood has developed over 30 grassroots associations, including social and health service organizations, based on principles of mutual aid.

By 2001, a major shift had taken place, with the immigrant family population now accounting for 62.4% of the total family population in these communities, while Canadian born made up 37.6%. The immigrants were disproportionately poor, as 65% of the 'poor' family persons were immigrants. Between 1981 and 2001, the number of racialized family persons also increased by 219%; and the racialized family population accounted for two thirds of the total family population in higher poverty neighbourhoods. About 75% of the residents do not have indoor or reliable electricity, and about 62% of residents are without indoor plumbing. Also Jane and Finch contains the highest rates of malnutrition and hunger in Canada. Some experts argue that the wide spread poverty along with high unemployment among youth contributed to the rise of criminal gang activity around the area.
The Jane-Finch community has one of the largest concentrations of criminal gangs of any area in Canada. Gang activity among youths within the area has reached an epidemic state. At one point during the early 1990's, the local gangs in Jane and Finch were united under the Bloods "card" with gangs such as the Trife Kids, No Love Vice Lords, Looney Toons and the Jane Finch Killaz being some of the earliest Blood sets to develop in the neighbourhood. But after a few violent conflicts amongst hardcore members from different factions, along with new alliances being forged with roaming gang members from Rexdale, that unity was nilled by the mid to late 1990's. Now youths who live north of Finch Ave. West (Shoreham Court, Driftwood Court and Gosford Boulevard) do not venture into complexes south of Finch Ave. West (Yellowstone, Grandravine and Grassways); which are regarded as territory of the Bloods (referred to as "Down-Bottom") where as complexes north of Finch Ave. West fall under the Up-Top Crips card. This self-imposed segregation not only affects hardcore gang members, but young wannabes and adults not connected to gang violence had to adapt as well; but it also acts as an affective buffer zone between the two groups which helps stem some of the violence. Other note worthy communities within Jane and Finch includes the Palisades, Eddystone and Tobermory.
News
Police Seek Help in Solving Jane-Finch Shooting
Man Identified as Jane/Finch Homicide Victim
Police Probe Shooting Death in Jane-Finch Area
4 Arrested And Charged in Child's shooting
Celebreties/Rappers
Anthony Bennett, Black-I, Blacus Ninjah, C4, Cali Snipes, Chuckie Akenz, Corey Fila, DeadEyez, Denham Brown, George Reefah, Honey Cocaine, Jully Black, Michie Mee, Robbie Khan, Tha Smugglaz, Thorobread, Young Deuce etc.
External links