Insane Clown Posse
Jump to navigation
Jump to search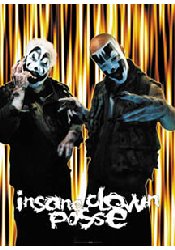 Insane Clown Posse
ICP (Insane Clown Posse) is a group consisting of Shaggy 2 Dope (Joey Utsler) and Violent J (Joe Bruce). ICP can rely on a loyal hardcore fanbase, called the Juggalos. The group from Detroit formed their own record label Psychopathic Records. They've also wrestled in WWF, WCW, their own federation JCW and the Eidos computer games Backyard Wrestling 1 & 2. Besides that, ICP have their own clothingline (HatchetGear) and sell other merchandise on-line and in special Juggalo Stores. Their biggest achievement lately is running their ever-growing annual 3-day festival Gathering of the Juggalos.
Album releases
Bizzar/Bizaar
Beverly Kills 50187
The Terror Wheel
Tunnel of Love
Forgotten Freshness Vol. 1-3
FuckOff! (Shaggy 2 Dope's 'solo' album)
The Wizard of the Hood (Violent J's 'solo' album)
The Calm
As well as the six Joker's Cards:
Carnival of Carnage
The Ringmaster
The Riddlebox
The Great Milenko
The Amazing Jeckel Brothers
The Wraith: Shangri-La/The Wraith: Hell's Pit
History
ICP started out as Inner City Posse. Then, as the story goes, they were visited by the Carnival spirit, which told them they would have to spread the word about the Dark Carnival in the form of the two wicked clowns we know today. Their 2002 album The Wraith: Shangri-La revealed that, even though their aversion for organised religion, ICP were always strong with God and the just cause and that God was what the Carnival had always been about. Now a new era dawns, featuring a new story to tell: that of The Calm and The Storm.
Collaborations
ICP were mostly influenced by Detroit-based rapper Esham, but also by Above the Law and NWA, and many others. Eventually, Psychopathic Records signed Esham, even after a small beef between the two of them. ICP also signed Twiztid, Anybody Killa and Blaze Ya Dead Homie (a.k.a. Colton Grundy). ICP collaborated with artists including Esham, Ice-T, Snoop Dogg, Ol' Dirty Bastard, Kottonmouth Kings and Marz. In later years, the group fueded on records and shows with Eminem.