Gregory Wooley
Jump to navigation
Jump to search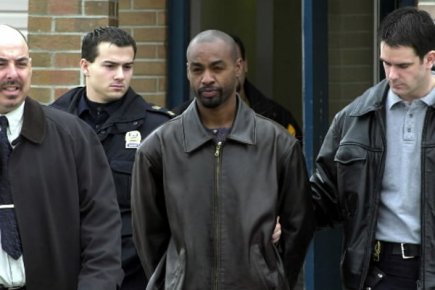 Gregory Wooley, nicknamed "Picasso", was born in Haiti in 1972. He immigrated to Montreal where he became a member of the vicious Master B street gang. At some point, Wooley became an associate of Hell's Angels' leader Maurice "Mom" Boucher and The Rockers MC biker gang. He was charged with The Rockers MC Pierre Provencher, Stephen Falls, Patrick Pascone and Daniel St. Pierre in the murder of Rock Machine member Jean-Marc Caissy. The victim was shot in the face five times outside a Cote St. Paul recreation centre in March 1997. The prosecution's main witness was a self-described homosexual hired killer turned informant, Aimé "Ace" Simard. He provided crucial evidence against the bikers but on July 18, 1998 the jury, after hearing four months of testimony from more than fifty different witnesses, The Rockers MC Montreal Chapter acquitted the men of all charges.
Six days later, Greg Wooley became the first black member of The Rockers MC. He was given his patch by Maurice "Mom" Boucher personally and then celebrated by partying with members of the Hell's Angels Nomads chapter, showing off his colors at all their regular haunts. As a former member of the Master B, Wooley still had many connections to Montreal's street gangs. He used his new influence with The Rockers MC to create a new gang, the Syndicate in 1998, that operated under his, and The Rockers MC, orders. Montreal Urban Community police pulled over Wooley in August 1999 as he rode his Harley Davidson in downtown Montreal. Police said they pulled him over for speeding and excessive noise. The officers noticed aheavy bulge under his leather jacket and, when they questioned him about what he had concealed, Wooley fled. He was caught and police located a loaded revolver that the biker had tossed, apparently, dropped during the chase. Wooley spent nearly five months in prison before he was freed on January 21, 2000. Quebec Court Judge Celine Lamontagne ruled that police had no right to try to search Wooley. They had stopped him for traffic violations and their investigation should have stuck to that.
In early April 2000, Wooley was arrested yet again. He was preparing to board a flight to Haiti at Mirabel Airport when a .44 magnum Smith and Wesson handgun was found inside his luggage. $35 000 was also found in one of his suitcases. Wooley pleaded guilty to a firearms charge and was jailed. While in prison, he was attacked by another inmate who stuck him in the face with a blunt object at a federal penitentiary. He was severely injured and spent several days in the hospital. Before he could be paroled, Wooley, who lived in Saint-Hubert at the time, was charged in the massive biker crackdown Opération: Pringtemps 2001. He faces charges of gangsterism and 9 counts of murder.
Adding to his mystique, Wooley beat murder convictions not once but three separate times. A jury acquitted Wooley and four other Hells Angels in the 1997 slaying of a rival gang member from The Rock Machine biker gang named Jean-Marc Caissy - a killing experts believe earned him (Wooley) his full-patch status among the Hells Angels. Wooley had also twice escaped conviction for the brazen assassination in 1996 of Pierre Beauchamps, another enemy associated with The Rock Machine, first with a hung jury and again with a full acquittal in 2005.
News
Gregory Wooley: From Jail to Street Life Influence
Police Looking Into Different Theories Regarding Triple Slaying of Prominent Gang members
Gregory Wooley Has More Charges Against Him While Serving Time In Prison