Infinite
From Rap Dictionary
Infinite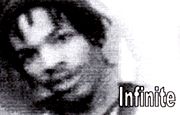 Biography
A Rexdale, Toronto, Canada emcee that definitely knows the art of storytelling. Once quoted by Kwame, on-air personality of the new KISS 92 FM as being, "the underground ghetto brother that just pushes it on a commercial level" his knowledge comes from the heart, which is his reality. Once a member of Ghetto Concept, he left the group after his brother was murdered in 1995.
The Beatfactory/EMI RapEssentials: Volume 2 wisely chose "Gotta Get Mine" as the first single off the compilation, catapulting Infinite into the\17 on Energy 108 top 108 of 1997. Infinite has been selected as the spokesperson for "Chill Out", a clothing drive for the homeless, in which the Toronto Blue Jays (MLB) and the Toronto Raptors (NBA) are sponsors. He has also made a host appearance on MuchMusic's Rap City as well as performing along side Bob Marley's band, The Wailers on MuchMusic's Da Mix, Black History Month discussion panel.
"Take a Look" accomplished the feat of being the first single off the BMG distributed album RapEssentials: The Rebirth, helping the compilation sell more than 5, 000 copies in its first week. The four minute fully animated video for "Take a Look" was well embraced by the MuchMusic staff. The video was immediately placed in heavy rotation, once again setting new standards for urban music.
"Take a Look" was charted on MuchMusic's RapCity Top 5 for 6 weeks during June and July 1999, holding down the number one position for three consecutive weeks. Infinite's performance at the 1999 NXNE showcase helped to highlight Canada's urban independent music scene. On June 11, 1999, Infinite was one of the featured acts in the Toronto Sun (circulation 1 million) coverage of NXNE.
Winner of:
MuchMusic's Best Hip Hop Video 1997,
Canadian Urban Music Awards Best Hip Hop Video and Best Director 1997,
Mic Check Magazines Best Rap Video 1997.
Nominated for:
1997 Juno Award for Best Rap Recording.
MuchMusic's Best Music Video 1999,
Best Rap Video 1999
and Best Independent Video 1999.
C.U.M.A Best Music Video.
Audio

RealPlayer required to play audio.