Alexandra Park
From Rap Dictionary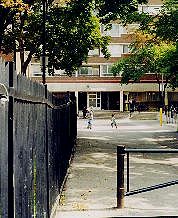 noun
Alexandra Park aka Alex Park, aka Atkinson Co-op, aka P.O., aka P-Dot
The Alexandra Park neighbourhood in Toronto has been the first home for many new Canadians, and has the distinction of being the third oldest housing project in the city (after Regent Park and Lawrence Heights). The area is named for the public 'Alexandra Park' at the south-east corner of Dundas Street West and Bathurst Street which contains the local public Library on the site of Sir Casimir Gzowski 's estate 'The Hall'. The area is named after Queen Alexandra, wife of King Edward VII, who were the first future monarchs to visit Toronto. In the 1920's and 1930's large numbers of Polish and Ukrainian immigrants settled here. They were soon followed by immigrants from Germany, Italy, Greece, Portugal and Hungary. In 1964 Toronto City council approved plans for the Alexandra Park Housing Cooperative and many of the surrounding homes where Polish and Ukrainian families once lived were demolished to make way for the public housing project, which lead to an influx of West Indian/African immigrants along with African Canadian families with roots in Nova Scotia. Alexandra Park is known for having one of the largest African Canadian communities in Toronto, and people of African Canadian ancestry are still evident in this neighbourhood (the Black population is amongst one of the highest in the city, at 23.6%). Residents are within walking distance of Toronto's largest outdoor food market; Kensington Market, which is located west of Spadina and north of Dundas Street. Racial tensions during the late 1970's and early 1980's between new immigrants and established immigrants, along with the emergence of marauding groups of teens from other neighbourhoods, gave birth to a group of African Canadians calling themselves the Project Originals, which later developed into an infamous street gang aligned with the Bloods (The gang also gave Alexandra Park its moniker; The P.O). The introduction of crack cocaine in the 1980's helped bring down the quality of life in the neighbourhood for its residence along with years of neglect to repairs by the TCHC. The rampant drug activity along with frequent street muggings, break-n-enters and hold ups within the community prompted the Alek Park Cooperative to install cameras and hire private security. Although this has simmered down the drug activity around the area, it is still known as a haven for dealers and addicts alike. In 1994, The Alexandra Park Residents' Association converted the Ontario Housing to Co-op housing and re-named it the Atkinson Co-op, named after the APRA's head; Sonny Atkinson (who died before seeing his dream). Today Alexandra Park is recovering from its harsh battles in the past, and making an effort to turn a new leaf in an effort to stop the oppression and drug wars the project had been facing for many decades previous.
Also See Atkinson Housing Co-op, Project Originals, Dirty Tricks Gang.
News
One Dead, One Injured in Alexandra Park Shooting.
Alexandra Park Revitalization Begins
Man Shot in Both Legs in Vanauley Walk
Toronto Man Arrested After Shooting In Alexandra Park & Regent Park
Project Post Aims To Reduce Crime Related Activity In 14 Division
Cops Prevent A Homicide On Vanauley Walk
2 Men Shot Near Alexandra Park
Man In Hospital After Alexandra Park Shooting
2 Injured in Vanauley Walk Shooting
Family Seeks Emergency After Thugs Shoot Up Their House
The Robin Hood Of Alexandra Park
Police Make Arrest In August Homicide Case
Vanauley Walk Residents Still Nervous After Big Gang Sweep
One Man Stabbed & One Man Hurt around Vanauley Walk
Police Claim Raid Took Out Gang's Leaders
Gangs
Videos
Alexandra Park Community Centre
Rappers
Marvel of F.O.S.
Links
Atkinson Housing Co-operative